Description
FULL PHYSIOPAD– Stability and Comfort
The FULL PHYSIOPAD is large enough for the horse to have two hooves standing on it at the same time. It is designed to provide comfort and stability, not to challenge the horse's balance like the standard 2″ thick Pads.
The FULL PHYSIOPAD and the smaller HALF PHYSIOPAD are the only Pads that are made from two different materials; 1″ of HARD and 1/2″ of MEDIUM. Either side of the pad may be used.
The PHYSIOPADS  were designed for farriers and trimmers, to help horses stand in comfort and stability during hoof care.   A calm, quiet horse is easier to work on and requires less time. More importantly, when the horse is comfortable by standing on a PHYSIOPAD, everyone is safer: horse, handler, and hoof-care provider.
The PHYSIOPAD is great for Equine Professionals to use as a treatment pad for the horse. It can also provide you with comfort while standing to hold horses, or kneeling down, especially on hard surfaces or after a hard day at the barn.
More information on the SURE FOOT Equine Website
---
The pads come packaged in pairs, along with a Warranty Card registration form and QR code for immediate access to the SURE FOOT Equine website.
Note: SURE FOOT Equine Balance Pads are a tool to benefit your horse. They are tough but just like your other equipment, they will show wear. Nicks, tears, and cuts are considered normal and do not alter the effect of the Pads in any way. 
Warning: Please be sure to familiarize yourself with the SURE FOOT Equine Stability Program® before using SURE FOOT pads with your horse. Failure to follow instructions could result in death or serious injury.  See instructions for use on the SURE FOOT DVD, SURE FOOT Equine website surefootequine.com and SURE FOOT Equine YouTube Channel.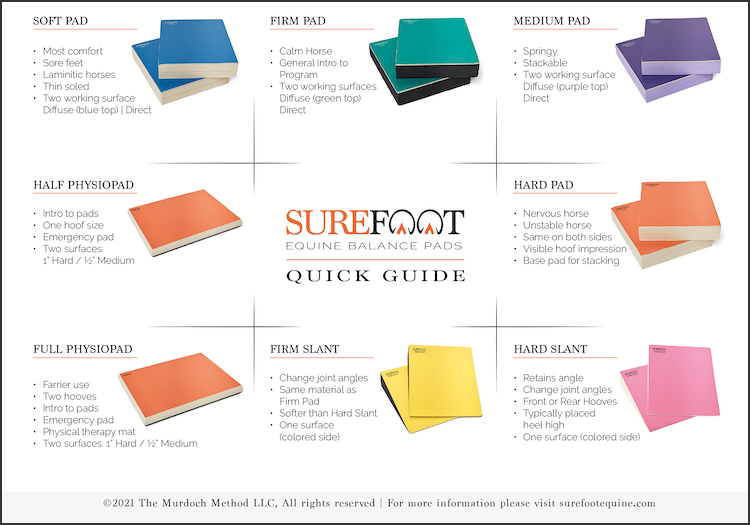 Please watch the Quick Start Guide to get started!
Watch more "how-to" videos on the SURE FOOT Equine YouTube Channel
| | |
| --- | --- |
| | WARNING: This product can expose you to phthalates, including di (2-ethylhexyl) phthalate ("DEHP"), which are known to the State of California to cause cancer and birth defects or other reproductive harm. For more information go to www.P65Warnings.ca.gov. |